CATEGORIES

Charter Boat Captains!
For Less than the Cost of A Charter, You Can Stay Busy All Month Long.
Learn How

Florida
Fishing Charters
From deep sea fishing for sailfish and red snapper to inshore flats fishing for tarpon and redfish, Florida fishing guides are ready to make any anglers dream come true!

Florida
Boat Rentals, Charters, Tours
Watercraft of all kinds for rent and charter from sailboats and yachts to pontoon boats and jet skis. Includes boat tours and scenic cruises.

Florida
Kayak Rentals
Florida is a Kayaking Paradise. Kayak tours travel the clear waters of Florida's lakes, rivers and estuaries, home of manatees and dolphins.
Includes SUPs

Florida
Airboat Rides
The ultmate Florida thrill ride is an airboat tour of Florida's vast wetlands. Find the very best Florida airboat rides and airboat tours from the Florida Everglades to Orlando.

Florida
Live Cams
Over 300 Florida live video cams covering all of Florida's best beaches from Pensacola Beach to Key West. Includes surf cams, nature cams, traffic cams and more.

Florida
Marinas
Florida marinas are home to fishing boats, yachts and every size boat and vessel in between. Also included are Florida yacht clubs, public marinas and boat storage facilities.

Florida
Boat Dealers
Florida is home to more boat dealers and yacht brokers than anywhere in the world. Find them here along with boat and motor repair, boat yards and marine supplies.

Florida
Boat Builders
Boat building is big business in Florida with over 80 boat builders located around the state. Builders of fishing boats, offshore race boats, airboats and more.

Port Charlotte Sailboat Charters
Enjoy a Day Sail along Florida's sunny Southwest Coast! The cities of Port Charlotte and Punta Gorda sit on Charlotte Harbor, the second largest bay in all of Florida. Both cities are just a short sail from South Florida's Gulf Coast and are ideally located for boat charters exploring the barrier islands along the coast or sailing to Key West.

Spend a week in Paradise!
Sunny skies and beautiful water year round make Port Charlotte perfect for a leisurely sailing cruise in the warm South Florida sun! A private sailing charter from Port Charlotte or Punta Gorda to Key West and back takes only a week with plenty of time to see the town and visit Dry Tortugas National Park.
FEATURED FISHING CHARTERS
Hooked On Fishing Charters - Perdido Key, Florida

Captain Andrew Zierk provides inshore, offshore and shark fishing trips on Perdido Key in Pensacola, Florida. His charters dpart just minutes from Orange Beach and Gulf Shores, Alabama.
Captain Andrew has spent his whole life fishing and hunting in the Pensacola area. His charters are Family Friendly. Kids are welcome on all his fishing charters including shark fishing trips.
For more information go to Hooked On Fishing Charters Perdido Key
Panhandle Charters & Guide Service - Pensacola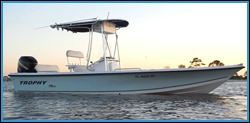 Captain Kenny is a Pensacola native specializing in Nearshore Fishing and Shark Fishing.
Captain Kenny is one of the top reviewed fishing guides in Pensacola. In addition to guided fishing trips for the whole family, Captain Kenny offers guided hunting trips for hog, duck and deer during the autumn and winter months. His fishing service is available year round. For more information go to:
PanhandleChartersandGuideService.com in Pensacola, Florida
Long Line Charters - Saint Augustine, Florida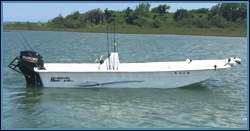 Saint Augustine native, Captain Danny Ledford is a third generation fishing boat captain. Families with children are always welcome on fishing trips with Captain Danny and Long Line Charters.
Captain Danny offers inshore saltwater fishing along the coastal rivers just north and south of Saint Augustine including the Matanzas, Tolomato and Guana Rivers. His offshore fishing trips offer anglers both trolling and bottom fishing in the blue Atlantic waters.
For more information go to Long Line Charters in Saint Augustine
On The Hook Charters - Daytona Beach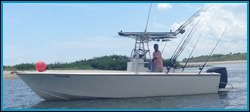 Captain Corey and On The Hook Charters specializes in Offshore and Deep Sea Fishing Trips.
For great inshore and offshore fishing charters in the Daytona Beach area, we recommend Captain Corey's On the Hook Daytona Beach Fishing Charters. Captain Corey is a native Floridian who knows the best fishing spots in the area. Captain Corey will put you on the fish!
Captain CB's Fishing Charters - Daytona Beach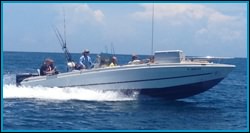 Captain Chuck 'CB' Bragg offers affordable deep sea fishing trips on his twin engine 500 HP fishing boat.
Experience Matters! Captain Chuck 'CB" Bragg has over 40 years of experience fishing inshore and offshore in the Daytona Beach area. Captain CB offers 4 hour, 8 hour and extended 10 hour deep sea fishing trips in the Atlantic Ocean off the coast of Daytona Beach, Florida. Captain CB also offers inshore saltwater fishing charters in the Halifax River and the coastal marshes near Daytona Beach. For more information go to Captain CB Daytona Beach Fishing Charters.
Floating Time Charters - Daytona Beach

Floating Time Charters is Family Friendly! Take your family and friends on an offshore reef fishing or shark fishing trip with Captain John!
Captain John Schmidt of Floating Time Charters in Daytona Beach specializes in inshore fishing trips along the Halifax River and offshore reef fishing trips to Daytona's extensive artificial reef system. Captain John has over 20 years experience as a professional commercial fisherman and guide. Captain John was born and raised in the Daytona Beach area and knows where to catch 'em!
Captain Sean's Daytona Beach Fishing Trips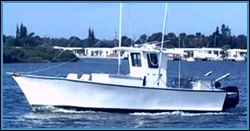 Daytona Beach
Captain Sean is a Daytona Beach native with over 20 years experience as a commericla fisherman and fishing guide.
Captain Sean specializes in offshore and deep sea fishing trips up to 15 miles off the coast of Daytona Beach. He offers trolling and bottom fishing in the Atlantic as well as inshore saltwater fishing in the Halifax River and Intracoastal Waterway.
For more information go to Captain Sean's Daytona Beach Fishing Trips